Welcome to the Hundred Wiki

This wiki is dedicated to everything related to the light novel, manga and anime series.
---
This wiki may contain instances of slight NUDITY and SPOILERS from the actual series! So read at your own risk. HUNDRED is a series meant for young adults.
Hundred is the only weapon that can counter the mysterious Savage life form attacking Earth. In order for his sister to recieve the treatment that she needs, Hayato Kisaragi becomes a Slayer who wields this Hundred and entered the marine academic city, Little Garden. However he feels a strange yet familiar sense of incongruity towards Emile Crossford, his roommate who somehow knows him from somewhere. On top of that, as soon as he enter the school, he is soon challenged to a duel by the "Queen" and the school's most powerful Slayer, Claire Harvey.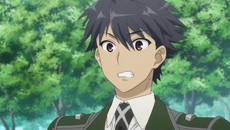 Hayato Kisaragi hails from Yamato and he became a Slayer in order to obtain state-of-the-art medical treatment for his younger sister, Karen Kisaragi.
How did you like the anime adaption?
You can help this wiki and you are welcome to join us and contribute to this wiki.
If you are new to wikis, you may want to read the tutorial.
If have a good picture, add it to the wiki.
Another helpful activity would be to check the list of wanted pages for frequently linked-to articles that don't exist yet.
Community content is available under
CC-BY-SA
unless otherwise noted.